Back to Mitai Hangi Continue to Coromandel Peninsula
From Rotorua we headed mostly north but a little east to get to the coastline. There was some rain on the way, and the countryside was very very green.
| | |
| --- | --- |
| Countryside | More Countryside |
Eventually we passed through a town with the unfortunate name of Te Puke, which actually means "the hill" in Maori. It also represents what you might do if you don't like kiwifruit, as the town seems to be the world capital of this hairy brown delicacy.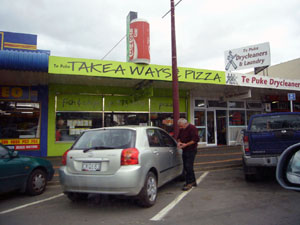 In Te Puke
The road reached the coast at Tauranga, which has an extensive harbour.
| | |
| --- | --- |
| Tauranga Harbour | Tauranga Harbour |
We continued north and a little west and hung a left at Waihi. This took us through the scenic Karangahake Gorge, eventually dropping us into the town of Paeroa, where we stopped for lunch.
| | |
| --- | --- |
| Road and Ohinemuri River | Bridge and Ohinemuri River, Karangahake Gorge |
Paeroa, you might recall, is the home of the L&P soft drink ("World Famous in New Zealand"), and just so you don't forget, there's a giant L&P bottle as you enter the town, and L&P banners (apparently celebrating the soft drink's 100th birthday) hanging from light poles on both sides of the main street.
| | |
| --- | --- |
| Giant L&P Bottle, Paeroa | L&P Banner, Paeroa |
There was a lot of road work happening on this particular day, but we managed to find parking. We selected the Lazy Fish Café for our meal, and the food was quite good, especially the pumpkin soup. But when we asked for an L&P, they didn't have any. Probably the only such place in town.
| | |
| --- | --- |
| Lazy Fish Café | Connie and Butcher Shop |
Paeroa is also something of a crossroads, as a driver can select highways heading west toward Auckland, east toward Tauranga, south toward Matamata (scene of the hobbit shire in "Lord of the Rings"), or north, toward Thames and the Coromandel Peninsula, which was our destination.

We reached Thames without incident, stopping at our motel, the Coastal Motor Lodge, just north of town.
| | |
| --- | --- |
| Paeroa – Gateway to Everywhere | On the Road Again |