Back to Skyline Skyrides Continue to On The Road
"Hangi" is a Maori method of cooking food underground using hot rocks. In Rotorua, when you're invited to a hangi, you can usually anticipate not just a meal, but an entertaining Maori cultural experience. If this sounds to you a bit like a Hawaiian Luau, you're not far wrong. Both Hawaiians and Maoris, after all, are Polynesian people. But at a Maori celebration you won't see any pineapples or poi or ukuleles, and little in the way of flowers. On the other hand, there is plenty of good food (like lamb and chicken and sweet potatoes, and yes, they wrap it up before they put it under the ground) and singing and dancing, and if you're lucky you may receive instructions on how to kill people with deceptively simple but splendidly efficient (in the hands of an expert) Maori weaponry. Unfortunately, nobody invited us to one of these swell parties, so we found one we could invite ourselves to, the Mitai Maori Village, that was advertised in leaflets at the hotel and which promised not just a hangi meal and culture, but also a warrior canoe, a sacred spring and glow worms. All for many New Zealand dollars, of course. But it sounded like an indispensible Rotorua experience, so we signed up.
A bus picked us up at the hotel and took us to the village, which was right next door to Skyline Skyrides as it turned out. We had some misgivings as we entered the dining area, as it was essentially tables and chairs inside a gigantic tent with sheets of plastic for walls, though there was a wooden floor. An emcee greeted us in a pleasantly goofy way and explained some of the planned proceedings for the evening. Then he led us outside the tent and uncovered and explained the evening's meal, which was truly in a pit in the ground and actually looked pretty good.
| | |
| --- | --- |
| Unveiling of Dinner (WMV Video, 10.8 MB) | Dinner |
We then walked through a forested area and stopped along the banks of a stream. Before long, a Maori war canoe passed by, loaded with several chanting Maoris.
| | |
| --- | --- |
| Canoe Passing By (WMV Video, 12.0 MB) | Canoers with Raised Paddles |
They stopped nearby and disembarked. We followed them to a presentation area with a stage that was set up as a Maori village. We went through the same challenge ritual we'd seen at Te Puia, with our chief (who'd been selected back at the hangi pit) accepting the presented fern leaf.
| | |
| --- | --- |
| Maoris Around Fire | Challenge Warrior and Welcome (WMV Video, 15.7 MB) |
Then there was singing and dancing and a welcoming speech in Maori, and then the speaker thankfully admitted to an ability to speak English (rather well as it turned out, with an English accent).
| | |
| --- | --- |
| Maori Warriors | Maori Chief with Weapon |
The poi ball and flying stick dances were demonstrated as at Te Puia, and then Maori weapons were discussed in some detail.
| | |
| --- | --- |
| Woman Demonstrating Poi Balls | Chief Describing War Club (WMV Video, 12.2 MB) |
A spirited haka with many participants ended the presentation, and then we walked back to the dining area.
| | |
| --- | --- |
| Haka | Haka (WMV Video, 17.4 MB) |
The food by this time was laid out on tables buffet-style, and we found it to be plentiful and quite good.
| | |
| --- | --- |
| Dinner is Served | Nella and Connie Digesting |
After dinner we were taken out again and shown the sacred spring. The spring was lit in a picturesque way and populated with a number of small fish and at least one large eel. Water could be seen bubbling up through the sand in the spring bed.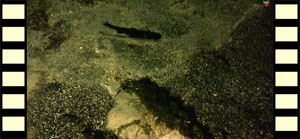 Sacred Spring (WMV Video, 3.1 MB)
At one point the lights were turned off and it became very dark. But then we could see little points of light all around the edge of the spring. These were glow worms, which use the light to attract small bugs which they can capture and consume.
From the spring the trail led to a gift shop and then to the bus, which took us back to the hotel.

This essentially concluded our festivities in Rotorua, as our plans for the next day had us hitting the road for the city of Thames.
More Photos:

| | |
| --- | --- |
| Walking to the Canoe Area | Paddling Canoers |
| Woman Showing Poi Rhythms (WMV Video, 9.0 MB) | Singing and Dancing |
| Singing and Dancing (WMV Video, 6.9 MB) | Stick Dance |
| Chief Describing War Club | Connie with Weapon |