Back to Lone Pine Continue to Tropical Fruit World
The Gold Coast of Australia refers to 38 miles of coastline located south of Brisbane and extending to the Queensland border with New South Wales. It should not to be confused with the Sunshine Coast, which is an area north of Brisbane. There are many beach localities with names like Main Beach, Surfers Paradise, Mermaid Beach, Burleigh Heads, Currumbin and Coolangatta.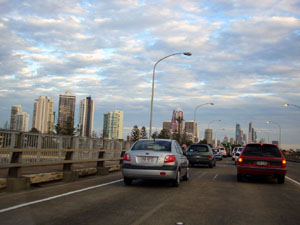 Approaching Surfer's Paradise
We were fortunate enough to have extended family members who generously allowed us to use their lovely condominium in Broadbeach for a few days, but winter rates in the area are extremely reasonable.
| | |
| --- | --- |
| Broadbeach Buildings from Condo | Building at Broadbeach |
Much of the coast is lined with high-rise apartments and condominiums. There are also extensive inland waterways with homes and private piers situated on them. There is plenty of surfing to be done in the area, but this did not concern us, because a) it was winter and cold, and b) we don't surf. This didn't stop us from having a look at the beach after breakfast, though.
| | |
| --- | --- |
| Australian Breakfast and Snack Food | View Toward Surfer's Paradise |
| On the Beach, Broadbeach (WMV Video, 5.4 MB) | The Surf at Broadbeach (WMV Video, 6.4 MB) |
The area is scenic and pleasant, and there are many other activities to keep visitors occupied. There's an amusement park called Dreamworld and a Sea World. There's a water park called Wet 'n' Wild and a Warner Brothers Movie World theme park. Up north in the Sunshine Coast area is the Australia Zoo, the impressive home base of the late Crocodile Hunter Steve Irwin, and still run by his family. On weekends there is the immense Carrara Flea Market, a few kilometers to the west of Broadbeach. In Broadbeach itself is the Conrad Jupiter hotel and casino and two shopping malls, the sprawling Pacific Fair and the Oasis, more compact and closer to the beach. Having two full days in the area, we planned our activities around two principal Gold Coast destinations: Tropical Fruit World and the Currumbin Wildlife Sanctuary. More on these later.

| | |
| --- | --- |
| Pacific Fair Mall | Pacific Fair Food Court |
| Nella and Connie at Food Court | Donut King, Pacific Fair |
Conveniently for us, the Oasis had a supermarket, Woolworth's (ubiquitous in Australia and known as Woolie's to the locals; apparently unrelated to the late, lamented US and UK chains of the same name), which we could use to inexpensively provision ourselves.
| | |
| --- | --- |
| Kangaroo Meat, Woolworth's | Australian Candy Display |
We were also able to indulge our weakness for Australian candy – particular favourites are Twirl, Timeout, Turkish Delight, Aero and Boost.

Cherry Ripes are tasty for those who like a cherry/coconut combination, and Violet Crumbles are wonderful except they get stuck in your teeth.

Each mall also had a food court, the Oasis food court actually located in a building across from the mall itself.
More Photos:

| | |
| --- | --- |
| Australian Breakfast Food (WMV Video, 9.1 MB) | "Upsy Daisy" on Morning TV |
| View South from Broadbeach | Waves, Broadbeach |
| Buildings, Broadbeach | "Upsy Daisy" Book at Target, Pacific Fair |
| "Little Britain" Slippers, Target | Aussie Burgers at Woolworth's, Oasis Mall |