Back to Sydney Cove Continue to Trip Home Page
It was time to go home. Though we'd only scratched a very small part of the surface of Australia and would gladly have extended our visit substantially, real world concerns were forcing us to behave like responsible adults and return to the commitments and routines from which we came. In truth, we were looking forward to seeing our friends and family again, just as they no doubt missed us ("Oh? Were you gone?"). Before departing, though, we took a last stroll around Hyde Park and the downtown area immediately adjacent.
| | |
| --- | --- |
| ANZAC Memorial, Hyde Park | Walkway, Hyde Park |
| Walkway with Archibald Fountain (WMV Video, 5.4 MB) | Sheraton on the Park Hotel |
The morning of departure, the same shuttle that had brought us to the hotel from the airport came to pick us up (we'd pre-paid for the round trip) and dumped us off at the Sydney Airport International Terminal.
| | |
| --- | --- |
| Nella and Connie at Airport | Downtown and Airplane |
We e-mailed our son Philip in the States (there was a free kiosk in the terminal) to remind him to come get us at the airport and boarded our QANTAS flight back to LAX.
| | |
| --- | --- |
| Bob and Nella on Plane | Sunset Over the Pacific |
The flight was of the lengthy overnight variety, but by a quirk of the International Dateline, we landed a few hours before we took off.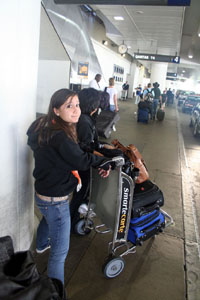 Back at LAX
After we got through Customs and Immigration, we were picked up by Philip as arranged and returned to Orange County, where the remnants of Summer Vacation awaited two of us and The Salt Mines awaited the other.
So would we visit Australia and/or New Zealand again?

Without hesitation.

In New Zealand, we wouldn't mind repeating some experiences, and we'd like to visit places like the South Island and that long skinny peninsula north of Auckland.

In Australia we'd like to revisit a few places like Melbourne, Northern Queensland and Uluru, and see some (to us) new places like Tasmania, Adelaide, the West and Northern Coasts, etc., etc. (it is an entire continent).

In the meantime we can say we survived the dangers of Australia (snakes, crocodiles, sharks, absurdly venomous spiders and jellyfish – even the goofy platypus is venomous) and New Zealand (stinky vulcanism, blood-thirsty Maoris, interminable sheep), and we have lots of pictures to show people.

Hopefully you found some of them interesting, and they've either jogged some memories of your own or encouraged you to think about going Down Under yourself.

So enjoy whatever travelling you end up doing, and if you bump into us, say Hi.
More Photos:


| | |
| --- | --- |
| Captain Cook Statue, Hyde Park | Sydney Tower |