Back to Australia Continue to Lone Pine
Brisbane is the capital of the Australian state of Queensland, which was split off from New South Wales in 1859. Brisbane was founded in 1825, and like Sydney, it started as a penal colony. It was named for Sir Thomas Brisbane, governor of New South Wales from 1821-25. It is the country's third largest city, after Sydney and Melbourne. It is centered on the winding Brisbane River. Brisbane is hot and humid in the summer, but pleasantly mild and dry in the winter. A freezing temperature has been recorded only once since record keeping began.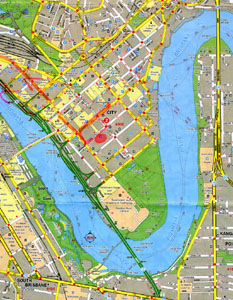 Brisbane Central Business District
Our hotel, the Brisbane Hilton, was located amongst many other high-rise buildings in the Central Business District.

It was outside our usual price range, but the location was within walking distance of many points of interest, and we were helped some by rewards points we'd accumulated on a credit card. We were given a very nice room on the 20th floor and had a fine view of other buildings in the area. The service was professional and friendly. At one point we were offered something called "turn-down service", which apparently involves an employee turning down the bedcovers. We declined, as we felt we could handle this ourselves, though possibly not as artistically. We were also offered a bottle of wine, which we politely turned down as well, as we don't really like wine. One bonus we did take advantage of, though, was the breakfast buffet which was included with the accommodation, which was quite amazing. There was a great variety of pastries, cereals, meats, fresh fruits and juices, and a chef had been supplied to prepare omelets to order. The posted cost for non-guests was $38 per person.
| | |
| --- | --- |
| Descending Elevator (WMV Video, 1.7 MB) | Floor of Atrium |
| Connie and Nella at Breakfast Buffet | Breakfast Buffet and Elevator Ride (WMV Video, 4.8 MB) |
The nutritional fortification came in handy, as we did a great deal of walking on our one full day in Brisbane. We'd decided to go carless for the day, as there appeared to be plenty to see within walking distance, and parking a car seemed as though it would be difficult or expensive or both. The CBD is mostly surrounded by a southward loop of the river, and we began our exploration by heading due east until we made contact with the water. From this point there was a fine view of the river, the landmark Story Bridge, and the eastern shoreline of the CBD.
| | |
| --- | --- |
| Connie and Nella with River and Story Bridge | Connie and Bob with River |
| Rubber Boat with Canine Figurehead | Moored Boats |
From here we turned south, passing through the City Botanic Gardens until we reached the point of the "peninsula" hosting the CBD. Our route took us through the Queensland University of Technology to a pedestrian/bicycle bridge across the river, named the Goodwill Bridge after the 2001 Goodwill Games, which were hosted in the city.
| | |
| --- | --- |
| Connie and Bob, Botanic Garden | Botanic Garden and City |
| River from Goodwill Bridge | Nella and Bob on Goodwill Bridge |
On the south bank were a number of museums, a Performing Arts Centre, a long, narrow park (the site of Expo 88), and the intricately carved Nepal Peace Pagoda, the last international exhibit remaining from Expo 88.

Navy Frigate

Diamantina

, Maritime Museum


Queensland Art Gallery


Nepal Peace Pagoda


Detail, Peace Pagoda

< /tbody>
We also found the Queensland State Library and a gigantic ferris wheel, which was not running and was fenced off and surrounded by construction equipment (possibly not quite completed).
| | |
| --- | --- |
| Giant Ferris Wheel | Bob and Walkway |
| Connie and Nella with Goodwill Bridge | City and River |
From here we crossed back over the river via the Victoria Bridge (shared with automobiles) and found ourselves on the Queen Street pedestrian mall.
| | |
| --- | --- |
| Connie with Treasury Building, Queen Street | Hungry Jack's, Queen Street |
We found a food court underneath one of the department stores along the mall and ate lunch, having found ourselves hungry again.

Over lunch, two divergent intentions became apparent:

Bob wanted to walk around in the CBD and look at more stuff, and the women wanted to go shopping.

It was decided that both factions would have their way, and reunite on the mall at an appointed time.
| | |
| --- | --- |
| Brisbane City Hall | Old Queensland Parliament Building |
| "The Mansions" | ANZAC Memorial |
After Bob got his urge out of his system (the shopping urge apparently never leaves the women), the reconstituted family visited an interesting store which sold an assortment of inexpensive Asian goods.
| | |
| --- | --- |
| Foot State of an Illness Cure | Gun of Pirates |
One highlight was the "Nose Up", a sort of a plastic clothespin which Asian women can apparently wear on their noses "in order to make your little nose clearer, more beautiful and full of happiness".
It only cost about $2, so we bought it – it's hard to find happiness at a better price than that.

At this point, having pretty much exhausted ourselves, we returned to our nearby hotel and collapsed, eventually passing on the turn-down service again.
More Photos:


| | |
| --- | --- |
| Hotel Atrium | Tree with Pods, Botanic Garden |
| Detail, Nepal Peace Pagoda | Connie and Peace Pagoda |
| Connie and Nella with Walkway | Seagulls |
| Ibis | CityCat Passenger Ferry |
| St. Stephen's Cathedral | Pigeon in Drinking Fountain |
| Connie, Bob and Mirror, Asian Store | Nella Modeling Hat |